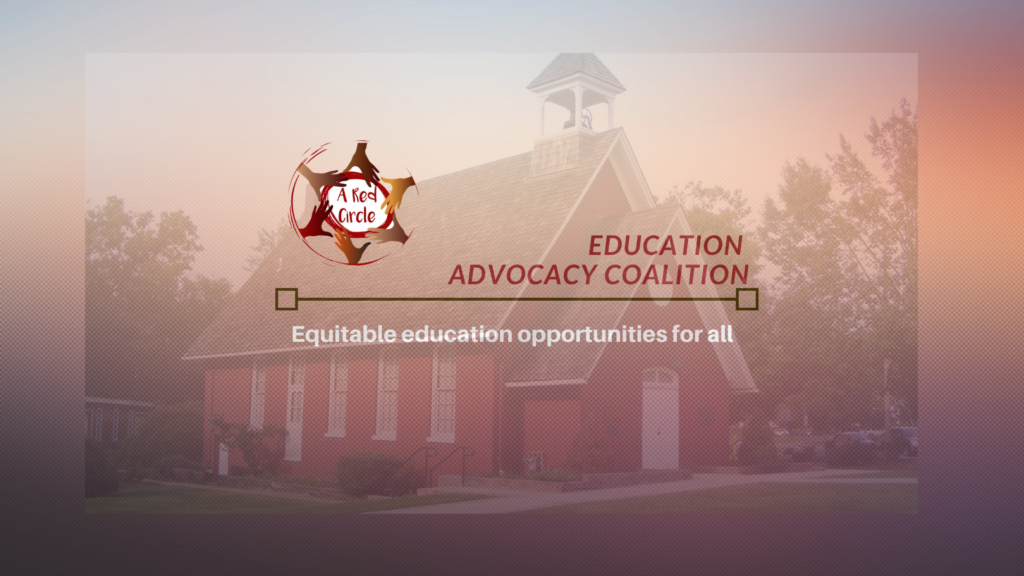 ---
A Red Circle's Education Advocacy Coalition meets monthly in an effort to improve educational outcomes for North County's students. The school districts on which we focus are Normandy, Jennings, Ferguson-Florissant, Hazelwood, and Riverview Gardens. The meetings occur online and include education professionals from all walks of life.
A Red Circle's Education Advocacy Coalition's has three committees:
School Discipline/RJ/Social Emotional Learning;
Equitable School Funding; and
IEP Support and SSD in North County.
The 2022 Meeting Schedule is:
January 7
February 4
March 4
April 1
May 6
June 3
July 1
August 5
October 7
November 4
December 2
All meetings are at 10 a.m.
A Red Circle's virtual platform is through Microsoft Teams. We hope to resume in person meetings so stay tuned.
If you are interested in joining the coalition, complete the form below:
---
The Education Advocacy Team supports elementary school students in the Ferguson-Florissant School District to address the high level of suspensions of Black children in North County, without having addressed the root cause of why a child is behaving a certain way. Sometimes, a behavior is cultural, which newer and Whiter teachers wouldn't understand or appreciate. Also, we try to address the root causes to support students to stay in their classrooms.
Through Education Advocacy, A Red Circle can:
employ college students and trainees to support elementary students with resources, tutoring, and mentoring,
provide more specialized services from professionals,
support parents through the IEP process, and
supply families with basic needs.